Less than eight months after Amazon's Orlando Robotics Fulfillment Center in Lake Nona finished construction, the global e-commerce leader had already met its goal of hiring 1,500 employees. Within the 850,000-square-foot fulfillment center dedicated to handling smaller customer items, a synchronized ballet of humans and robots work side-by-side to fulfill customer orders and get packages to their destinations on time. The four-story flurry of fulfillment combines human intuition with artificial intelligence to create a collaborative, automated environment where employees are solely focused on tasks that require high judgement and awareness capabilities.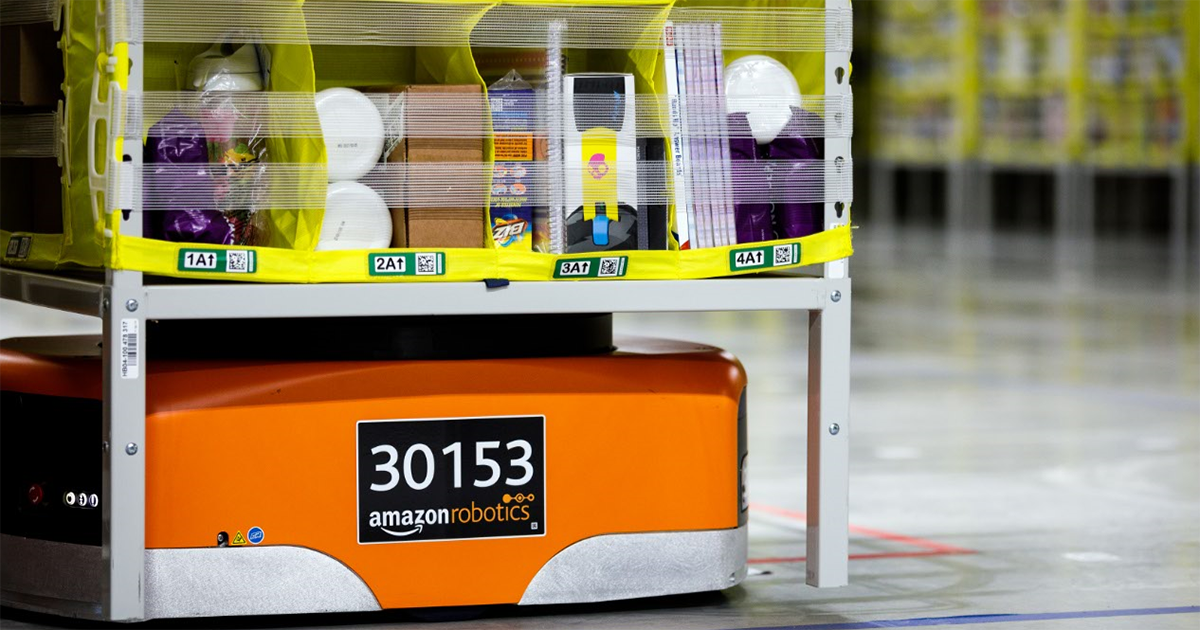 Aside from reducing employees' lifting and walking, Amazon robotics are also responsible job creation. Since the introduction of robotics in 2012, Amazon has added more than 300,000 full-time jobs globally, including positions in IT and in servicing and maintaining robots. Plus, the robotically enabled fulfillment centers often have higher employment numbers because inventory is moved at a faster pace, which requires extra associates.
Since 2011, Amazon has created more than 10,500 full-time jobs at its 11 facilities in Florida. In Orlando, the company has plans to add up to 2,500 more employees during the holiday season. In addition to competitive minimum starting wages of $15-per-hour, full‐time Amazon employees are eligible for comprehensive benefits starting on day one including healthcare, 401(k) with 50 percent match, stock, bonuses and a network of support to help employees succeed. Amazon also offers regular full-time employees paternity leave benefits in addition to maternity leave and access to innovative programs like Career Choice, where Amazon will pre-pay up to 95 percent of tuition for courses related to in-demand fields regardless of whether the skills are relevant to a career at Amazon.
"An Amazon presence in Orlando means more than just the jobs provided within these four walls," Amazon Orlando General Manager Kirc Savage said. "Providing young people with the opportunity to learn next-gen skills through hands-on activities is critical to developing the innovators of tomorrow. We are looking forward to working side-by-side with organizations like Tech Sassy Girlz to continue this mission."
Amazon donated $15,000 to Tech Sassy Girlz, a local nonprofit supporting women in technology, in November 2018 to support the nonprofit's mission of inspiring young women to close the opportunity and earning gap through pursuing careers in STEM. The company also provided more than $300,000 in monetary and in-kind donations to various organizations including the Osceola STEM Charter School.
Beyond jobs, Amazon's fulfillment center also has a direct impact on the community by donating excess food to local food banks. Since 2016, Amazon's nationwide initiative with Feeding America, a U.S.-based non-profit organization whose mission is to feed America's hungry through a nationwide network of member food banks, has donated enough pounds of food to provide 5.3 million meals for those in need.
"Amazon is a great addition to our region, business community and workforce," Orlando Economic Partnership President and CEO Tim Giuliani said. "It says a lot about our status as a major employment hub in the United States when a global leader in ecommerce chooses to add more than 1,500 jobs in our community. These aren't just well-paying jobs for people with all types of experience, education and skill levels. They are complete with talent development programs that provide full benefits to employees while also encouraging workers to further their education and improve their skills through a tuition reimbursement incentive. We applaud their effort to create new career pathways for their employees that address social mobility."
Being employed at an Amazon fulfillment center is not just a good job. It's a leg up to careers across the tech sector. That's why programs like Career Choice—where employees can get training to further their careers with high-earning potential like robotics or engineering—are so important ensuring broad-based prosperity™ throughout the Orlando region.