Thanks to its thriving tourism industry, Orlando is a region with strong infrastructure, state-of-the-art amenities and diverse cultural assets – top priorities for companies seeking a pro-business community in a location that attracts top-quality talent. Through continuous innovation and development, Orlando has secured its place as the "Theme Park Capital of the World," but the impact of Orlando's tourism industry doesn't stop there.
While tourism supports roughly one-third of Orlando's economy, the remaining two-thirds is bolstered by a thriving ecosystem of engineers, entrepreneurs, technology experts and manufacturers – all helping to make Orlando a city that people not only want to visit, but a place that residents and businesses want to call home.
More Visitors, More Resources
The economic impact of Orlando's tourism industry goes beyond visitor spending – Orlando's tax laws ensure local businesses and residents also benefit. Visitors to Central Florida counties pay more than $5 billion each year in state and local taxes, accounting for roughly half of all sales tax revenue in places like Orange County, home to the city's theme parks.
Funds collected from Orlando's Tourist Development Tax (TDT) is used to build and strengthen the region. In 2017, the Orlando's world-class attractions, entertainment, restaurant, shops, sights and facilities generated $260 million in TDT funds. These tourist taxes make a big impact on the local community – from supporting art groups and cultural initiatives to funding world-class performance, sports and recreation venues.
In the last several years, TDT dollars have provided the foundation for the Dr. Phillips Center for the Performing Arts, the Amway Center arena, renovations to Camping World Stadium and a $5 million sports bid fund. By funding these state-of-the-art facilities for the benefit of both residents and visitors, the TDT has helped Orlando present itself on a national stage by hosting events like the National Football League Pro Bowl, WrestleMania, the NCAA Division I Men's Basketball Championship and the Copa America Centenario Tournaments – all attracting thousands of visitors to Orlando and giving them a taste of the city outside of its theme parks.
Thanks to the region's tourism industry, Orlando is also equipped with reliable and efficient infrastructure, offering access to major domestic and global markets. While other communities often struggle to secure funding and resources for infrastructure improvements, Orlando enjoys a robust transportation infrastructure designed for millions of annual visitors. In fact, Orlando is home to three international airports, including Orlando International Airport, which welcomes 43 million annual visitors. Thanks to upcoming projects worth $10 billion, Orlando's infrastructure is keeping up with the times, including a new, state-of-the-art commuter transit system and expansions to Orlando International Airport and Port Canaveral.
When Traveling Means Business
Orlando's warm climate, state-of-the-art facilities and local entertainment options not only attract vacationers, but also thousands of business travelers every year. In fact, Orlando is the nation's second-largest trade show destination.
Looking to expand your business to Orlando?
If growth is in your plans, you've come to the right place.
The Orange County Convention Center currently hosts more than 230 events with roughly 1.5 million attendees each year. The economic impact of the convention center alone is estimated to be $2.3 billion, a figure that will only increase after an upcoming 200,000 square-foot multipurpose expansion. Plans are also underway to transform the I-Drive corridor where the center sits into a walkable, livable entertainment district featuring 45,000 places to stay, hundreds of places to eat and drink, and dozens of things to do.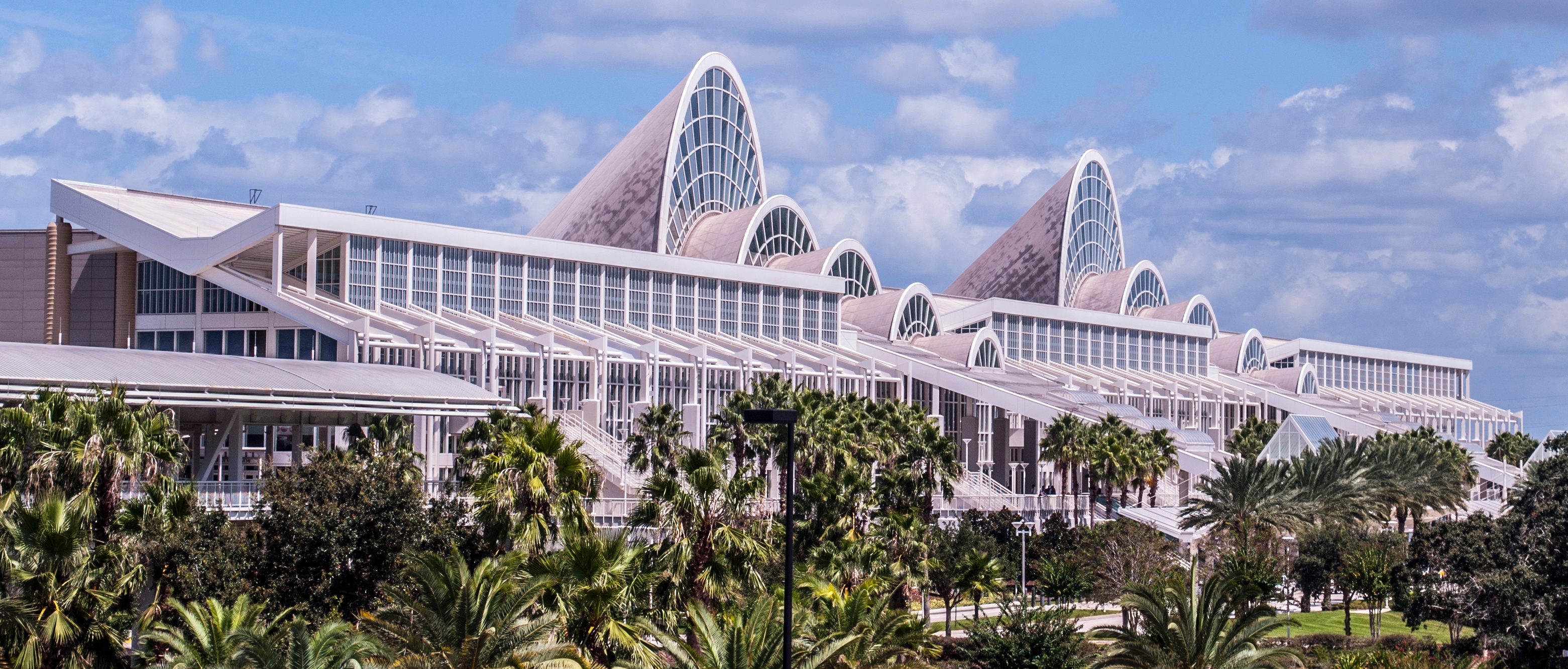 By serving as a major meeting place for business, Orlando has had the opportunity to showcase its own business landscape to industry leaders from around the world, from hospitality to manufacturing to technology. Orlando's reputation as a destination and expertise in customer service is also well known among the nation's top companies, such as KPMG and AAA, both of which brought new operations to Orlando because of the quality of place employees could enjoy as visitors or residents.
Theme Park Expertise Drives Tech Leadership
The groundbreaking technology that made Orlando "the happiest place on earth," has fostered the region's growing technology sector with new developments in gaming, virtual reality and mobility. Orlando is now home to 2,000 technology companies ranging from startups to major companies employing 300,000 people. As the Modeling, Simulation and Defense capital of the world, Orlando has a rich history in simulation technology and is now leveraging this expertise for VR innovations that impact education, healthcare and more.

Orlando also plans to leverage its theme park expertise for the development of autonomous vehicles (AV). In fact, Orlando's Central Florida Automated Vehicle Partnership was chosen as one of the U.S. Department of Transportation's 10 designated autonomous vehicle proving grounds to test AV technology on behalf of the country. As one of the world's most visited destinations, Orlando is uniquely positioned to expose and acclimate the public to AV technology.
Tourism Sparks the Future of Economic Growth
Orlando's tourism industry set a precedent for creativity and innovation, qualities now engrained in the city's culture and business landscape. From world-class venues and entertainment to unparalleled economic development and job creation, Orlando offers a vibrant business community and a high-quality of life.
With 1,000 people moving to Orlando each week, the city is on par for continued growth and is adding employment opportunities at an equally rapid pace (Orlando ranked No. 1 in the U.S. for job growth in 2017, 2016, and 2015). The Milken Institute ranked Orlando the No. 7 best-performing city in the country in 2017 for its job growth and high-tech developments.
Thanks to the resources created by the tourism industry, Orlando is a growing community of diverse companies and residents. Today, thanks to investments in new technologies, infrastructure and creative, sustainable real estate, Orlando is both a "must visit" vacation-destination and a place where businesses and entrepreneurs alike want to put down roots.