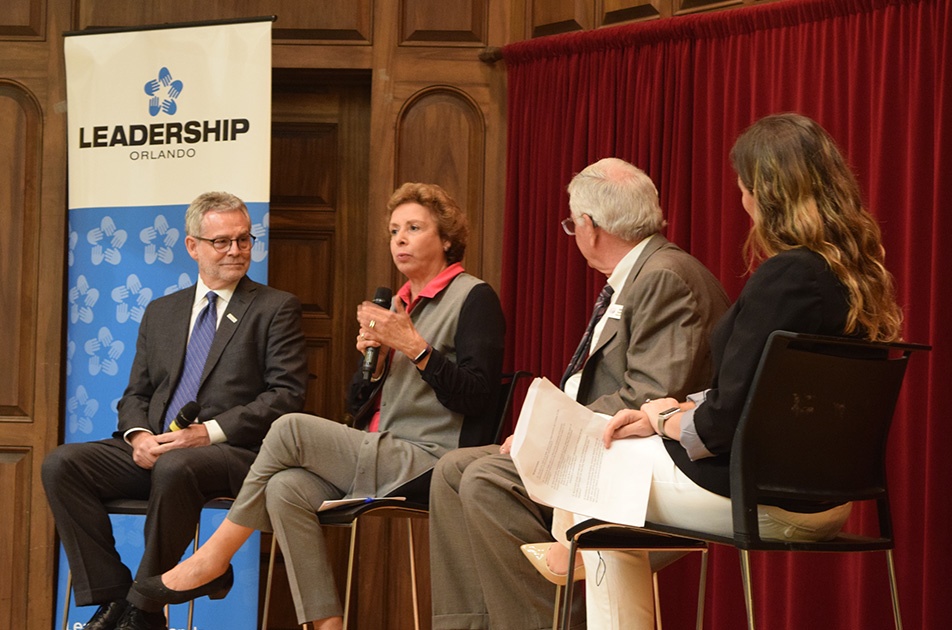 Last week, Class 93 concluded their participation in Leadership Orlando with presentations from many inspirational community leaders around Central Florida. Class Chair Yolanda Londoño, Vice President of Global Social Responsibility at Tupperware Brands Corporation, kicked off the final session for class members at Rollins College. The session's goal was to transform Class 93's experiences during the past eight months into actionable community service.
Deborah Crown, Ph.D., Dean of the Rollins College Crummer Graduate School of Business shared her thoughts on leadership as an essential management skill with class members. Dr. Crown's presentation perfectly concluded Class 93's programming, highlighting new skills that the class has mastered throughout the program in order to connect and engage with regional needs. Class 93 graduates are now better prepared to take their next step as community leaders.
Class 93 is also now formally certified in Board Orientation through a unique partnership with the Edyth Bush Institute for Philanthropy and Nonprofit Leadership (the Institute) and Leadership Orlando. The 90-minute Orientation to Board Service course, presented by the Institute's consultant, Emily Furlong, provided crucial information on the roles and responsibilities of board members as well as fiduciary expectations and liabilities in volunteer leadership roles. Many hands went up when asked how many of the class members currently serve on multiple nonprofit boards. Emily advised against joining multiple boards, suggesting that class members "find one or two boards that are a match for both you and the organization and ask all the necessary questions before fully committing."
Following lunch and tours of the beautiful Rollins College campus, the session then focused on corporate social responsibility. Kecia Carroll, Manager of Corporate Citizenship at the Institute and a Rollins professor, provided real world examples of going from sustainability to social impact, moving beyond philanthropy to partnerships and turning volunteering into skilled volunteerism.
Closing out the session, a panel moderated by Micki Meyer (LO 67), Lord Family Assistant Vice President for Student Affairs & Community at Rollins College, participated in a thought provoking discussion on innovation, social impact and how to connect and engage as volunteer leaders in Central Florida. Panelists included Mark Brewer, President & CEO, Central Florida Foundation; Gene Columbus, Executive Director, Orlando Repertory Theatre; and Yolanda Londoño. Gene Columbus summed up the day perfectly when he shared this advice with the class to "be very successful at helping others be very successful."
Class members celebrated their graduation with past graduates of Leadership Orlando at a reception hosted by the A-Team (2017 Leadership Alumni Association). In attendance were alumni from as far back as Classes 7 and 13, as recent as Class 90, and many more in between!
Many of those alumni were also there to toast and say "thank you" to Ruth Mustian. After 40 years of service, Ruth has decided to unplug her alarm clock and spend time traveling with family and friends. Leadership Orlando will forever be grateful for Ruth's leadership and vision throughout the years. She will be missed but her legacy will carry on.
It is with very special thanks that we recognize Class Chair Yolanda Londoño for her leadership in guiding Class 93.
To the following members of Leadership Orlando Class 93 we say, "thank you for your commitment to the Central Florida region and congratulations!"
Lesley Allison


PFM Asset Management, LLC

Robert E. Andrews
BB&T Wealth Management

Heather E. Antonacci
Herzing University

Kevin J. Aspegren
Florida Polytechnic University Foundation, Inc.

Wayne Bannatyne
Arnold Palmer Invitational

Ashley Blasewitz
Heart of Florida United Way

Christina L. Bracco
OFS Brands

Eric M. Brewer
Corporate Synergies

Jessica Captain Novick
BakerHostetler

Lauren Chianese
Teach For America Orlando

Kristeen Christian
Valencia College

Johanna W. Clark
Carlton Fields

Lisa Coe
Coe & Naylor Group, LLC

Heather A. Corbitt
Cubix, Inc.

Christopher T. Dawson
GrayRobinson, P.A.

Christine Dellert
University of Central Florida

Jeffrey S. Donald
Tsyklon, LLC

Deputy Chief Eric J. Ferrari
Reedy Creek Improvement District

Jason D. Fleck
PNC Bank

Philip Flynn, III, Ed.D.

Lainie Fox Ackerman
Orlando Health

Douglas K. Gartenlaub
Burr & Forman LLP

Olive Gaye, MBA
GenCare Resources

Elizabeth R. Godwin
Orlando Economic Partnership

Quibulah Graham
Orlando Health

Meldin R. Graziani-Califano
Walt Disney World Resort

Jessica A. Guthrie
One Compass Consulting, LLC

Laura J. Haag
Orlando Regional REALTOR Association

Silvia A. Haas
OCA – A Special Place for Special Needs

Aida G. Haile
Tupperware Brands Corporation

Allison Halbert
YMCA Dr. P. Phillips

Yenni M. Hernandez
Reedy Creek Improvement District

Melissa L. Hilliard
Lockheed Martin Corporation

Phil R. Hoffman, Ph.D.
WUCF TV & FM

Mary Ann Horne
MetroPlan Orlando

Cornelia Jung
Hyatt Regency Orlando

Robert P. Kantor
Universal Orlando Resort

Patricia A. Kelly
Clear Channel Outdoor

Timothy A. King
North Highland

Linda L. Knorr
Orlando Health

Anthony Koscielecki
Cubix, Inc.

Layla S. Krens
HDR, Inc.

Vicki H. Landon
Orlando Repertory Theatre

Michael Lane
Bouchard Insurance

David C. Lewis
CORE Construction Services of Florida , LLC

Steven J. Lockhart
Finfrock Design-Manufacture-Construct

Yolanda Londoño (Class Chair)
Tupperware Brands Corporation

Jessica V. Ludvigsen
Axiom Bank

Andrew J. Marshall, III
Balfour Beatty Construction

Angela Mendolaro
Valencia College

Michael E. Merritt
Naval Air Warfare Center
Training Systems Division

Willis J. Milner, V
Balfour Beatty Construction

Leslie R. Mizerak
Lead Coach Mentor

Sherri Monroe
American Red Cross of Greater Orlando

Melody Montgomery

Christina M. Morton, APR
Consensus Communications

Joseph H. Neal, P.E.
M.E. Construction

Vanessa A. Nicholson
WithumSmith+Brown

Jeremy D. Niedfeldt
PFM Financial Advisors

Sarah Nixon
CNL

Beth A. Norrow
Greenberg Traurig, P.A.

Amy L. Pavuk-Gentry
Florida Hospital

Michelle Peden
LEGOLAND Florida Resort

Patrick G. Rauch
SchenkelShultz Architecture

Brice Rickard
Smart City

Patricia M. Rios
Centerplate

David J. Rosen
Akerman LLP

Rosa C. Rountree
Egis

Christina Ruiz
Tupperware Brands Corporation

Roberta Satill
Two-6 Resources, Inc.

Adam Scheinberg
Massey Services, Inc.

Karen Shamlin
Department of Veterans Affairs

Donna Sines
Community Vision

Alejandro M. Sorondo
HNTB Corporation

Alicia E. Spears
Alicia Spears Realty

Michelle L. Sperzel
Harbor House of Central Florida

David M. Sprinkle
Veritas Recruiting Group

Russell J. Stoewe, III
NASA

Cherisse Cavan Stover
Orlando Health

Shaikh Sultani
Kroger Specialty Pharmacy, Inc.

Michelle Y. Terrell
Valencia College

James S. Toscano
Lowndes, Drosdick, Doster, Kantor & Reed, P.A.

Alexander L. Van Heyde
Dean Mead

Captain Jose R. Velez
Orlando Police Department

Brian M. Walsh
Walsh Banks Law

Pamela S. Whaley
City of Orlando
If you'd like to participate in Leadership Orlando, now is the perfect time to be a part of America's largest community leadership program. Leadership Orlando Class 95 will begin in March 2018 with Reginald B. Riley, Ph.D., community relations manager, Orlando Health, serving as class chair. The online enrollment form and full schedule is available here.
About Leadership Orlando
Developing regional leaders is important to the future success of the Central Florida region. That is why regional leadership is a primary line of business for the Orlando Economic Partnership. With proven success since 1975, Leadership Orlando, America's largest community leadership program, continues to recruit, cultivate and encourage emerging and established leaders to better serve the Central Florida Region.