Orlando is a leading market for aerospace and defense industries thanks to strong partnerships between educational institutions, STEM programs and advanced manufacturing companies like Lockheed Martin. Together they ensure the next generation will have the skills, training and careers to innovate cutting-edge technology to support the nation and region well into the future.
A $1.5 million grant presented by Lockheed Martin will work to establish a state-of-the-art Cyber Innovation Lab at the University of Central Florida (UCF). The lab will serve as the regional nerve center for cyber talent development and will give a big boost to the pool of viable candidates for Lockheed Martin.
"This state-of-the-art space will help better prepare our students to safeguard and strengthen our country's systems and networks," UCF President Dale Whittaker said. "We are grateful for Lockheed Martin's vision and partnership as we work together to meet the cyber security workforce demands of the future."


Rendering of the future Lockheed Martin Cyber Innovation Lab at UCF.
Lockheed Martin employs more than 2,200 UCF graduates in Orlando, including Senior Engineer Gavin Barnes, engineering lead on the ONYX exoskeleton, wearable technology designed to enhance the strength and endurance of soldiers, workers, and first responders.
"I'm proud to be a UCF grad and working on this innovative technology in Orlando," he said. "I get to lead the charge, turning science fiction into science fact. Exoskeleton technology has the potential to improve lives of users by alleviating physical burdens without compromising the quality of their work."
Lockheed Martin also presented a $300,000 check to Valencia College to support a second advanced manufacturing training program that will further cultivate the talent pipeline in the community. The first program hired about 60 people and currently employs about 400 Valencia College graduates in Orlando. The company provides paid work experience to approximately 650 UCF students each year and hires more graduates from UCF than any other university in the country.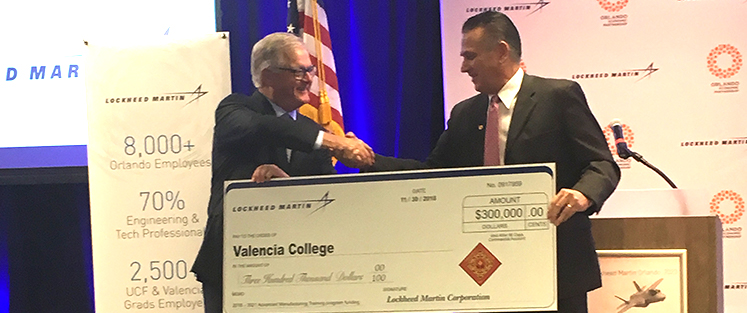 "Lockheed Martin's presence in Orlando began more than 60 years ago with America's launch into the space race, establishing the region as a dominant player in developing advanced technologies that positively impact our nation," said Tim Giuliani, president and CEO, Orlando Economic Partnership. "We are thrilled for that legacy to continue as business growth extends educational partnerships, STEM programs, and the development of advanced technology in Central Florida."
This investment in Orlando cybersecurity could not be better timed. According to the National Initiative for Cybersecurity Education (NICE), a program of the National Institute of Standards and Technology in the U.S. Department of Commerce, there are more than 13,000 unfilled cybersecurity jobs in Florida alone. Cybersecurity Ventures predicts cybercrime damages will cost the world $6 trillion annually by 2021.
"Developing the latest technology to support our nation, fostering the next generation of talent and growing the economy are our top priorities," said Amy Gowder, general manager and vice president of Lockheed Martin's Training and Logistics Solutions. "Continued growth and success of our Orlando business is made possible by the hard-working men and women who produce, develop and test critical technology and components that are vital to our national security."
In addition to support for Orlando and Florida academic institutions, Lockheed Martin announced 200 scholarships of $10,000 per student, awards that are renewable each year. This national program is open to individuals studying engineering or computer science who demonstrate financial need and come from underrepresented or under-served communities. The program will grow to 1,000 students by 2023 and $10 million in scholarships annually.
More information on Orlando-based positions at Lockheed Martin can be found on the company's careers site.