Will our ability to plan and make decisions outpace the growth we will experience between now and 2030? That was the theme of the 2019 Orange County Regional Economic Summit, held on March 29 at the Orange County Convention Center.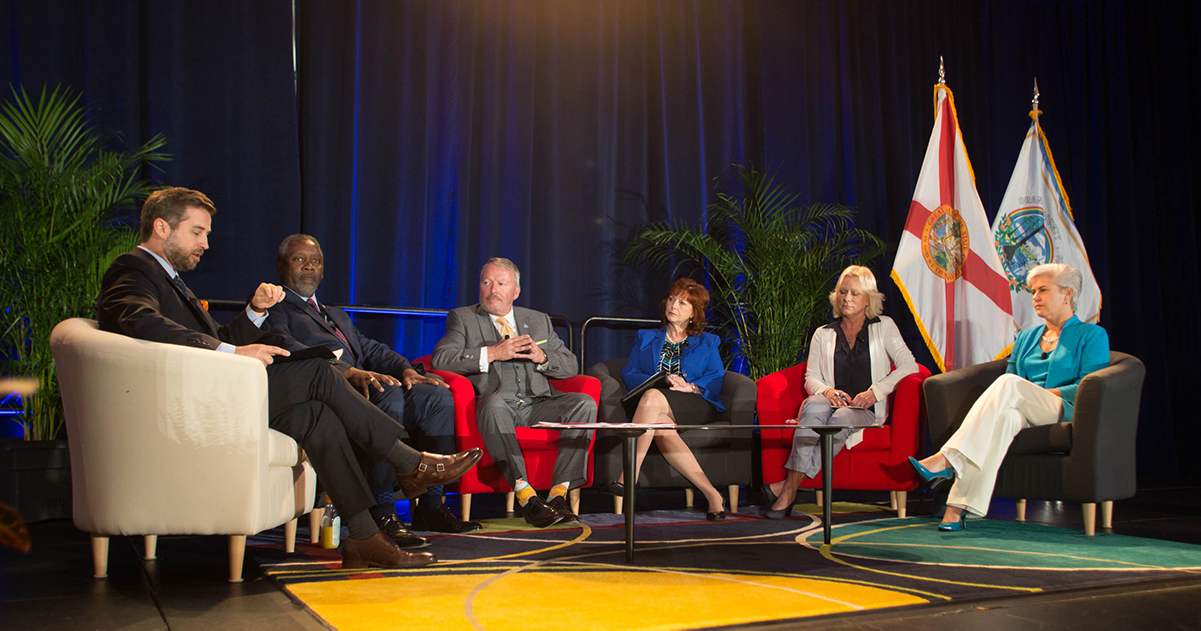 In addition to providing an overview of Orange County's remarkable economic trajectory, highlighted by state-leading job growth to the tune of more than 52,000 jobs in 2018, a 4.2 increase from the prior year, Mayor Jerry L. Demings also convened a panel discussion featuring elected regional leaders Orlando Mayor Buddy Dyer, Seminole County Chair Brenda Carey, Osceola County Chair Cheryl Grieb and Lake County Chair Leslie Campione. Moderated by CEO and President of the Orlando Economic Partnership Tim Giuliani, the panel discussion focused on findings in the Partnership's recent report, "2030: Insight into Orlando's Future."
The 2030 report underscores the fact that the high school graduating class of 2030 is already in the first grade. And, when today's first graders join the workforce, they will be entering a business community that's very different from today, applying for jobs in industries that do not currently exist.
"We want Orange County to be known not only as the premier place to do business, but a home for the entrepreneurial spirit and a hub for innovation. That starts with invigorating a culture of top-notch customer service in our Orange County Government operations," Mayor Demings said during his remarks. "From the top down, we are evaluating our policies and procedures to help optimize the development process and seek out efficiencies. We must not forget that time is money for businesses."
The discussion covered the region's strong industry sectors, growing and expanding industries, developing a hub for innovative entrepreneurship and stressed the importance of supporting regional mobility through transportation.
The 2030 report highlights how the decade leading up to 2030 will transform the Orlando region with shifting demographics, new demands for skilled labor and increased stress on the region's infrastructure. The Orlando region is projected to add 1,500 people per week to reach a population of 5.2 million people, upwards of 500,000 new jobs and, concurrently, 600,000 extra cars on the road. These economic projections stress the need for a robust transportation system, especially in light of the expectation of the four area counties and the city of Orlando to fund SunRail starting in 2021.
"We need to deal with issues like our mass transit system," Mayor Demings said. He pointed to the fact the Orange County needs a dedicated funding source for regional transportation.
Mayor Dyer agreed, adding, "I will go ahead and sign up for the dedicated funding source."
In other parts of the region, transportation initiatives are being decided by voters. Osceola County Commissioners recently decided to move forward with a ballot referendum to add a penny to the county sales tax to fund transportation needs.
"We know that if we don't have our transportation, we don't have economic growth," Grieb said.
Sean Snaith, Ph.D., director of the University of Central Florida Institute for Economic Competitiveness, said during his annual economic forecast that the I-4 corridor will be an important driver of the state's economy.
"We're on the brink of becoming a very major metropolitan area and we need a major transportation network to facilitate that," Snaith said.
As today's students prepare to join tomorrow's workforce, it is important for regional leaders to consider how technology and automation will change the skills demanded of them, and how the business community can grow to support those needs.
"We're changing perceptions about Orlando's present by envisioning the future we'd like to achieve," Tim Giuliani said. "But we can't get there alone. While we can't predict the future, we can plan for it and create it."
The Orlando Florida region, when compared internationally, ranks as the 47 largest global economy, behind Portugal and ahead of Romania. With a fresh and united perspective across the region, what's good one county benefits the rest.
"Think of how far we've come in the last 10 years," Giuliani said. "The first iPhone was released in 2007 and since then we've adopted Facebook and Instagram, then Uber, Lyft, Airbnb and Venmo. Think about how those advancements have altered our lives and changed how we interact socially and how we plan our travel. Now, imagine what the next 10 years will bring."