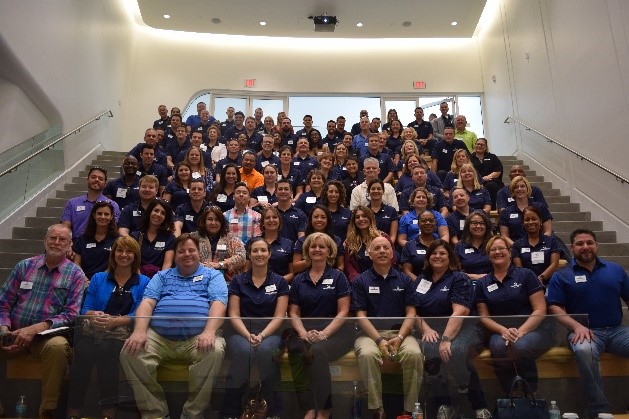 In the days immediately following Hurricane Irma, much of Central Florida was without power, homes and businesses had sustained damage, schools had not reopened and lives were not yet back to normal. Because of this, the September session and visit to Polk County for Leadership Orlando Class 93 was cancelled.
When the Polk County session for Leadership Orlando Class 94 was being planned for November, it made perfect sense to invite Class 93 to join in. Last week, nearly 100 participants from both classes traveled together to Polk County to explore emerging regional assets that are positively impacting the Central Florida economy.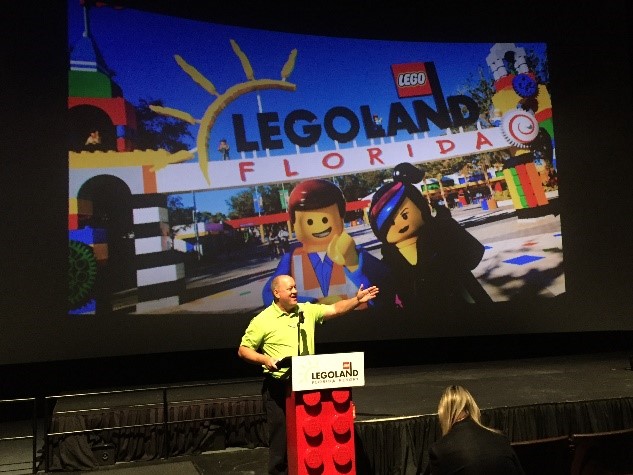 Thanks to our hosts at LEGOLAND Florida Resort, our leaders received an overview from Leadership Orlando Class 90 graduate Becky Helms on Merlin Entertainments, the largest European entertainments company in Europe and the second largest entertainments company in the world (ranked behind the Walt Disney Company). Merlin Entertainments is the parent company to such local brands as LEGOLAND Florida Resort, the Coca-Cola Orlando Eye, SEA LIFE Aquarium and Madame Tussauds.
The classes then traveled to Florida Polytechnic University, named the No. 5 most beautiful structure in the world earlier this year by industry architects (The Parthenon in Athens was ranked No. 1). The iconic Innovation, Science and Technology (IST) building is a 162,000 square-foot, oval-shaped, two-story building, and houses an 11,000 square-foot library that does not contain any books… it is entirely digital.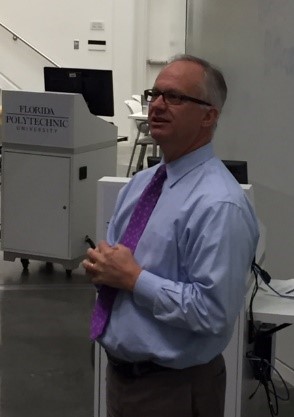 University President Randy K. Avent, Ph.D. provided a history of the university, an overview of the degrees offered and what the future has in store with all of the on-campus expansions.
Leadership Orlando Class 87 graduate Sean Malott, President & CEO of the Central Florida Development Council, Inc. (CFDC), provided an economic overview of Polk County, including its geography and demographics, business services and targeted industries of the CFDC, and its most recent announcements for manufacturing, distribution and office space, investment and job creation.
Leadership Orlando Class 54 graduate Bob O'Malley, Resident Vice President for CSX Transportation, Inc., shared details of the Central Florida Intermodal Logistics Center. Intermodal systems move freight from seaports to rail to tractor trailers through the utilization of container shipping. This highly efficient system is a cost effective way to significantly reduce highway congestion and provide just-in-time delivery of goods and services not only to Central Florida businesses but throughout the southeastern United States.
If you'd like to participate in Leadership Orlando, now is the perfect time to be a part of America's largest community leadership program. Leadership Orlando Class 95 will begin in March 2018 with Reginald B. Riley, Ph.D., community relations manager, Orlando Health, serving as class chair. The online enrollment form and full schedule is available at www.LeadershipOrlando.org.
About Leadership Orlando
Developing regional leaders is important to the future success of the Central Florida region. That is why regional leadership is a primary line of business for the Orlando Economic Partnership. With proven success since 1975, Leadership Orlando, America's largest community leadership program, continues to recruit, cultivate and encourage emerging and established leaders to better serve the Central Florida Region.
For more information, contact Danielle Permenter at 407.835.2444, or via email at danielle.permenter@orlando.org.