Orlando-based startup AireHealth was awarded the $100,000 prize at the Rise of the Rest® pitch competition and earned its place among some of the country's most innovative companies within the Rise of the Rest Seed Fund®. The company's portable, connected nebulizer technology that could revolutionize patient care and drug delivery drew the judges' attention due to its potential to "… positively impact 100 million people in the US who live with respiratory illness through a more proactive approach and patient engagement."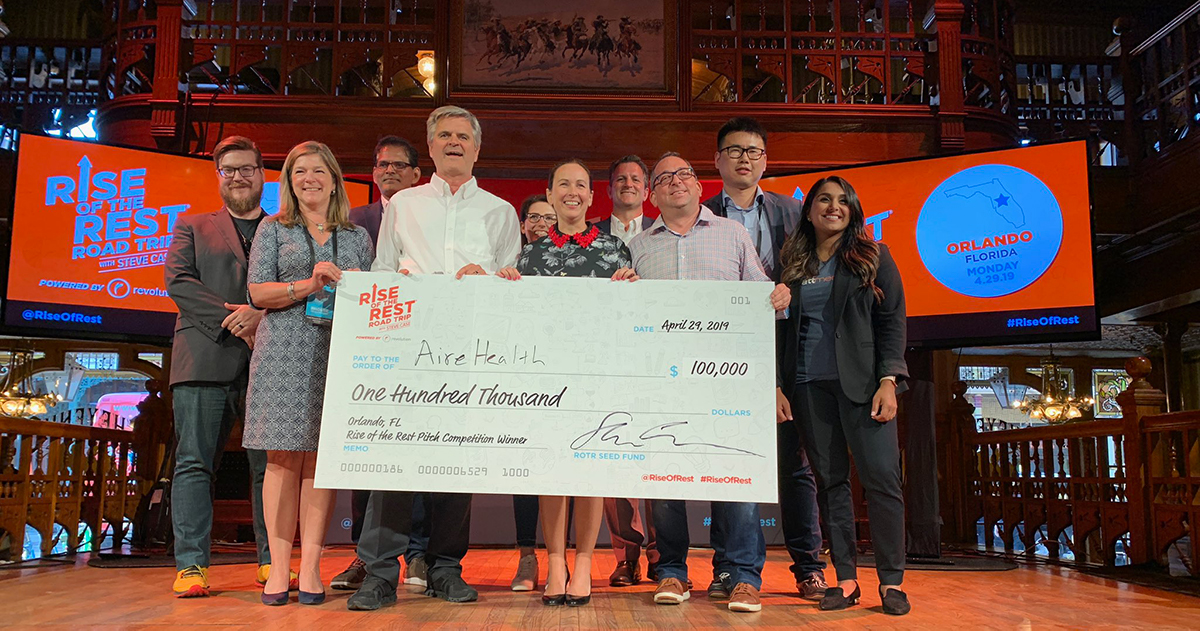 "It's about having an effective story and letting it flow," AireHealth's Co-Founder, President and CEO Stacie Ruth told the Orlando Sentinel of her pitch. "This is not just a technology, it's something that is helping people." Ruth said she would use the money to help her further develop the device. "The impact this money will have on AireHealth is tremendous."
The fierce pitch competition also featured local finalists Alertgy, Doghead Simulations, Edukate, FleetZoo, InitWeather, MilleBot and Pangian.
"It's great to see the momentum that's already happening in Orlando, it's growing. We need to get more of that capital in the hands of entrepreneurs in Orlando so they can create jobs and opportunity in Orlando and Orlando can keep rising," former AOL Co-Founder and Revolution CEO and Chairman Steve Case said. "Fifty years ago, Walt Disney started down the path of creating Walt Disney World here, but also 50 years ago Apollo 11 mesmerized the world. Trying to figure out how the next 50 years of innovation is birthed here and not just in places like Silicon Valley, is what Rise of the Rest is all about."
The competition was the result of months of collaboration and preparation by leaders throughout Orlando's innovation economy. Case and his iconic group of investors launched the eighth Road Trip in Orlando by inviting local public, business and community leaders for a day of visiting local startups in various stages of growth and investment.
President and CEO of the Partnership Tim Giuliani expects the national attention brought by the tour can bring more venture capitalists and money to the Orlando market. "The rest of the world needs to know that entrepreneurs are here, they're growing, this is an opportunity to invest," Giuliani said. "Whether you're a student, an entrepreneur, or just looking for the next opportunity, we want people to know that those opportunities do exist here."
At Golf Channel, the company touted to the visiting investors its recent run of mergers and acquisitions and featured an electronic putting green with more than 100 sensors along with many other innovations within the company's diversifying portfolio. Maitland's Electronic Arts demonstrated their latest game avatar technology, which mapped Case's likeness onto a player in NBA Live.
Luminar Technologies highlighted the advanced manufacturing of its LiDAR for use in autonomous vehicles and local tech startup Fattmerchant, whose founder Suneera Madhani served as a judge in the evening's pitch competition, showcased its history of growth and passionate culture. At StarterStudio, Case and his team dug into the region's business incubation and acceleration ecosystem.
"There's a lot of exciting things happening around Orlando. Most people in Orlando probably don't know that and certainly most people around the country don't, and that's what we're trying to change with Rise of the Rest."

Steve Case,
AOL Co-Founder and Revolution CEO and Chairman
Angela Alban, who chairs the Orlando Regional Chamber Board of Directors and founded Orlando tech startup SIMETRI, Inc., said joining the Revolution portfolio of companies is just as valuable as the six-figure investment.
"The $100,000 investment in a small company could have an immediate impact that facilitates anything from scalability to survival. The key is for the recipient of that investment to be strategic and to leverage the exposure of the Rise of the Rest network."
Companies that participated in the competition are also benefitting. Co-Founder and CCO of Doghead Simulations Chance Glasco said he already scheduled several follow-up meetings with other entrepreneurs and investors who he met during the tour and competition. "I just made my pitch but have already made connections," he said shortly after leaving the stage. "These connections are making this more valuable than even winning."
Rise of the Rest not only shined a spotlight on our entrepreneurs but worked to further foster the spirit of innovation throughout the region's startup community.