For Yolanda Londoño, being part of Leadership Orlando tied together a sense of place and purpose into a comprehensive program, allowing her to learn, grow and make new friends and connections with some of the most influential leaders in the region. But after graduating from Class 93 as a participant and the class chair, she was left longing for ongoing camaraderie and additional opportunities to apply what she learned.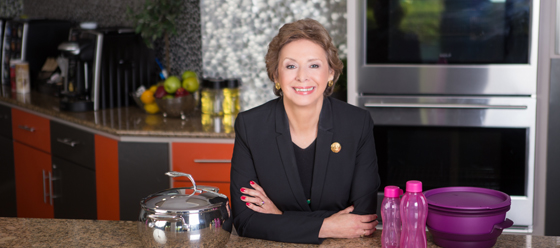 "Leadership Orlando illustrates what's new, innovative and relevant in the region. There's always a focus on what's the greatest, most interesting opportunity for supporting broad-based prosperity™ for all," she says. "It's an amazing opportunity to be in the know and learn things first hand and hear directly from the folks who are leading important efforts throughout our region."
Londoño looks back on her experience with Leadership Orlando as a joyful opportunity to expand her geographic and regional perspective. As a partner and corporate investor through her role as VP of Global Social Responsibility at Tupperware Brands as well as Board Chair, she has the unique perspective of the program's impact on both the community and individuals.
"I know the value chambers and economic development organizations provide," Londoño says. "Each community organization that provides leadership training has a unique perspective and focus, but Leadership Orlando offers the most robust civic engagement opportunities I've seen."
That's why she's excited to join the first team of Leadership Orlando 2.0: The Impact Project, the next phase of Leadership Orlando. The Impact Project is an opportunity for Leadership Orlando alumni to come back together—only this time going from learning about the region to impacting its future.
"We're talking about folks in leadership positions, emerging leaders, and those moving into advisory roles. We'll have the whole demographic strata of the region's leadership in the room," she says.
Leadership Orlando 2.0: The Impact Project participants will meet eight times over the course of six months, beginning and ending with Jeffersonian Dinners, private dinner parties focused on shared conversation with a purpose, with community leaders. During the initial session, participants will be presented with three collectively identified regional issues and then will vote on the one they want to focus on.
In subsequent sessions, Kissimmee-based foresight, innovation and strategic design firm, Kedge, LLC, will lead The Impact Project Team in foresight methods to achieve long-term solutions. Doing so will not only impact their community but add strategic foresight to participants' leadership toolkit to continue transforming both their professional and personal endeavors. The program culminates with the release of a detailed report highlighting the Team's impact.
It's the emphasis on applying future thinking to Orlando's strong collaborative community that sold Londoño on the idea. "Ultimately, it's the joy of learning about fresh ideas based on new thinking and connections. That's what keeps people growing. The pursuit of great ideas and doing something about it," she says. "Convening leaders for collective action on our community's most pressing issues results in long-term solutions for a better future. Together, we can take the lead and make a lasting impact."